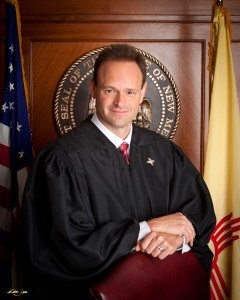 Earlier this week I spoke with Judge Miles Hanisee of the New Mexico Court of Appeals. He was appointed to the Court by Governor Martinez in 2011, and again after the 2012 election.
In addition, he is the Republican Party's nominee for the New Mexico Court of Appeals that he presently holds. His campaign website is here.
I previously interviewed Judge Hanisee about his personal and professional background when he was running in the 2012 election, so I've tried to come up with some different questions this time:
Q.  I'm here at the New Mexico Court of Appeals with Judge Miles Hanisee to ask him a few questions about his race for the Court of Appeals. Thanks for talking with me today.
A.  Thanks for again coming in to interview me, and thanks for continuing to care for the appellate judiciary.
Q.  In this election, why should the voters of New Mexico choose you to remain at the Court of Appeals?
A.  Well, first of all I hope people know that I'm now in my fourth year as a judge on the Court of Appeals. I am as firmly enmeshed in the day-to-day activities of this Court as any of its members right now. I've participated in hundreds and hundreds of decisions. I've authored over 100 myself. About thirty to thirty-five of those were formal opinions that in some way modify or create precedent here in New Mexico.
You're also aware that I've been endorsed by all three of the major newspapers in New Mexico – not easy in a state-wide race – the Las Cruces Sun-News, the Albuquerque Journal, and the Santa Fe New Mexican. The Taos News endorsed me yesterday, some smaller ones are coming along.
I think it is very noteworthy that the job I've done has warranted the editorial board endorsements. And I hope people pay attention to the service I've put in, not only here on the Court, but also state-wide. I've served on somewhere between seven and ten nominating commissions for district court judges. I've traveled the state speaking to bar organizations, bar groups, and worked very, very hard to interact with the community of New Mexico.
Q.  You have been critical of New Mexico's method of appointing judges and then requiring them to stand in a partisan election. If you could redesign New Mexico's judicial selection process from the ground up, what would it look like?
A.  Well, it would be anything that doesn't affix labels to the names of judicial candidates for the job that is perhaps the most non-partisan of any public sector job there is. That's the answer. I'd be happy with anything.
We start out getting it right. As you know, we start out with commissions filled with the best lawyers in the communities, judges from the court to which there's to be a new judge, a justice from the Supreme Court, and a judge from the state Court of Appeals. Only those people qualified to serve are forwarded to whoever is the governor at the time.
We then turn around and make those selectees, new judges, into partisan politicians the next day. We're the only state that does it that way. It's very much a shame that we do. There are seven states left, and only seven, according to Judgepedia, that still partisanize upper judicial races. By "upper" I mean above the district court.
There is nothing about a non-partisan selection system, which I advocate for, elections that are non-partisan, or elections that are retention-only for appointees. Either one of those systems is fine. Those candidates can still get out in the community, just the same as if they had a label stuck on their names.
But this job is not about partisan affiliation. It is a place where partisan affiliation is banned from your work product, and rightfully so. And we should get into the progressive manner of picking judges for reasons of merit and merit alone. I've written about it, I've talked about it, and my opponent opposes it. Continue reading →