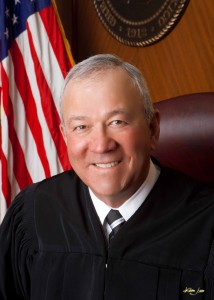 I recently met with Chief Judge Michael Vigil of the New Mexico Court of Appeals. He is the Democratic candidate for the New Mexico Supreme Court in next month's general election. You can find his campaign website here.
Q.  I'm here this afternoon with Chief Judge Michael Vigil of the Court of Appeals. Thank you for your time today.
A.  It's my pleasure to be here with you.
Q.  Tell us about your family and background before going to law school.
A.  My mother and my natural father divorced when I was very young. And that family, I've gotten to know them very well in recent years – the Vigiles of Española. They go back deep into the history of New Mexico. My grandfather and grandmother helped build the church up there in Española, the Sacred Heart Church. There's actually a street named for them by the church. Their farm is where the community college is now located.
And I've found out that there is a relationship – it's not real close – with Donaciano Vigil, the first governor of the Territory of New Mexico. So it's a large family. I think there's a chance I might even be related to Father Martinez of Taos fame, who brought the first printing press to New Mexico, and had some big fights with Archbishop Lamy. He was originally from Abiquiu, and had a large family there, and after his wife died, he went on to become a priest. And my great-great-grandfather on my mother's side was a Martinez from Abiquiu.
Basically I was raised in the Air Force, and we traveled all over the world, and I went to four high schools before graduating finally from Santa Fe High School. Then I went on to the College of Santa Fe, where I got my B.A., and from there I went on to law school.
My mother and father really didn't have money to send me to school, so I was going to join the Air Force Academy, and received an appointment, but at the last minute they sent me a postcard saying that I didn't have enough background in math and science to succeed, so I was turned down.
So here I was in May, and I wrote to UNM, and they said they'll accept me, but I didn't have any money. My plan then was to join the Army, and in 1969 the Vietnam War was still going pretty strong. So my plan was to join the Army, and hopefully live, and then get the GI Bill.
I took my mother to lunch to tell her about my plan, and she said "What's wrong with the College of Santa Fe? You can live at home. We'll help you as much as we can." I checked with the school, and they looked at my SAT or ACT score, and they asked if I'd looked at the dean's scholarship, which would pay half the tuition. So I went and applied, and Brother Luke was the president at the time, and I got a dean's or presidential scholarship. And that's how I ended up at the College of Santa Fe.
Q.  Why did you decide to attend law school, and where did you go?
A.  Like many lawyers, I decided to attend law school because I didn't know what to do! I had a B.A. from the College of Santa Fe, where I'd studied political science and history, and really didn't know what I wanted to do. I asked people for advice, and a lot of them recommended law school, because they teach you to think in a certain way. So I applied to eight law schools, and four accepted me. And one of the four that accepted me was Georgetown Law School in Washington, D.C., so I decided to borrow money to go to school there.
That was the summer of Watergate, in 1973, and I got a job out there in Washington, and part of my education was learning about Watergate, and all the people that were involved. Senator Montoya of New Mexico was on the Watergate Committee, so I got to see all the hearings. During my first year of law school, I went to see the Watergate tapes case argued in the U.S. Supreme Court. I was the third person in line to see that. I had to spend the night out on the steps! It was an experience that you remember for the rest of your life.
A lot of players in the Watergate case had connections to Georgetown. It was super being in the capital. I got to watch U.S. Supreme Court oral arguments all the time, and other courts.
Q.  Describe your career between leaving law school and joining the Court of Appeals.
A.  I graduated from law school in 1976, the bicentennial. I applied to some law firms, and received some offers from big giant megafirms. And I was really not that interested in going to work for one of the multinational law firms.
I also applied to the Civil Rights Division at the Department of Justice, and was lucky enough to be selected for the job. The acceptance letter said the position was subject to funding. So I graduated, got my degree, and came back to New Mexico to take the bar exam. During the course of the summer, I tried to make contact with the people at DOJ, and could never reach anybody or get any answers about what was going on.
In the meantime, I had family and friends who were encouraging me to stay in New Mexico. I heard about a job at the New Mexico Court of Appeals. And I went to the clerk's office at the Court of Appeals. I was driving a motorcycle in those days, and was wearing jeans and a t-shirt and a helmet. I inquired about whether the job was still open, the lady at the counter said "Yes, it is." And she directed me to the basement.
I went down to the basement, and met Winston Roberts-Hohl, who was the original director of the Prehearing Division. He interviewed me then and there, and we hit it off immediately. He called me the following week and said I had the job if I wanted it. So I said, "You've got yourself a lawyer." I started the following Monday, and went to work as one of the two original attorneys in the Prehearing Division at the New Mexico Court of Appeals. I stayed there almost three years.
I left there and came to Albuquerque, and worked with Ernesto Romero, who later became a district court judge. Then I was on my own for a while, and then met Billy Marchiondo, and ended up in his law firm, where I stayed for over twenty years, until I went to the New Mexico Court of Appeals. Continue reading →