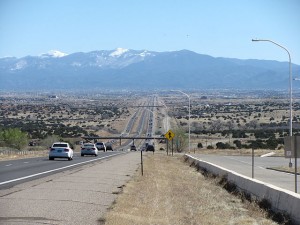 Peggy Lujan-Silva was driving on Interstate 25 near Santa Fe, when her car struck tire debris on the highway. Her car rolled over several times, and she was killed. No one knows how long the debris was on the highway.
Ms. Lujan-Silva's estate sued the New Mexico Department of Transportation for negligently failing to clear the debris from the highway. The Department argued that the estate could not show it had constructive notice, because no one knew how long the debris had been there. The trial court agreed and granted summary judgment.
The Court of Appeals reversed. See Lujan v. N.M. Department of Transportation (Aug. 4, 2014). Judge Vigil's opinion explains that although it is unknown when the debris was left on the highway, the Department has a duty to inspect the roads and keep them safe for the public, and "[w]hen there is a duty to inspect, evidence showing that there was a failure to inspect within a reasonable period of time under the circumstances is evidence that the dangerous condition could or should have been discovered but for the untimely inspection."
The opinion describes testimony from Department employees that they had not received training on removal of litter or debris from the roads, and while Department employees were instructed to remove debris whenever they saw it, there were apparently no regular patrols to look for it. The Court of Appeals determined that this evidence was sufficient to create an issue of fact about whether the Department had failed to inspect I-25 within a reasonable period of time before the accident, and therefore about whether the Department had constructive notice.
The lesson here, for all businesses and organizations that may be targets of lawsuits for injuries caused by dangerous conditions on property (e.g. merchants whose customers may slip and fall; construction site owners who fence out properties to keep out curious kids, etc.), is that it's important to conduct, and document, regular inspections for dangerous conditions. Doing so will probably not protect you against all lawsuits, but you'll be better off than if you hadn't.