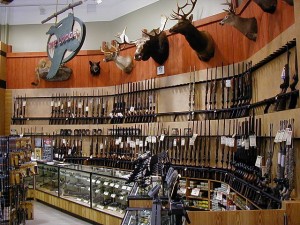 The saga of the Reese family, who owned a gun store in Deming, New Mexico, has become something of a cause célèbre among Second Amendment advocates. They were charged with conspiracy, aiding and abetting straw purchases of firearms, gun smuggling, and money laundering.
Although I didn't follow the Reeses' case closely, I gather that some people believe that the federal government targeted them unfairly. And perhaps the government did overreach, because the jury acquitted the Reeses on 24 of the 28 charges against them.
Three of the family members were convicted on four counts of aiding and abetting straw purchases of firearms. A straw purchase occurs when a person falsely represents that he or she is the buyer of a firearm, when in reality it is being bought for someone else.
The federal district court in New Mexico granted the Reese family a new trial because the government withheld favorable information from them. It turned out that one of the witnesses against the Reeses, a sheriff's deputy, was being investigated by the FBI for his alleged involvement in criminal activities. (The prosecutors didn't know about it either, but their lack of knowledge was irrelevant). If this information had been disclosed, the Reese family could have impeached him at trial.
This week, however, the Tenth Circuit, in an opinion written by Judge Gregory Phillips, reversed the new trial order, finding that even if this information had been disclosed, there was no reasonable probability that the trial's result would have been any different. See United States v. Reese.
At pages 6-10 and 17-23 of the opinion, Judge Phillips describes the evidence in detail, and to my mind, it is utterly convincing of their guilt on those charges. The deputy only had a peripheral role at the beginning of the investigation, but the government's case on the straw purchaser charges was really based on what can only be described as damning, overwhelming evidence. Government agents video-recorded members of the Reese family repeatedly and actively assisting obvious straw purchasers.
Here's a pro tip for gun shop owners — if a customer who buys a firearm at your store says he plans to take it to Mexico and sell it, the correct response is not "I don't need to know that."
But again, like I said before, I didn't follow this case closely. If you're a supporter of the Reese family, and think the Court missed something, or think the Reeses are innocent of these charges, please leave a comment and let us know why.