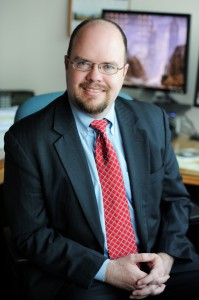 Emil Kiehne is an experienced appellate lawyer at Modrall Sperling.  He assists clients at all stages of the litigation process to maximize their chances for success on appeal.   At the trial level, Emil drafts significant motions and jury instructions to preserve important issues, and in the appeals courts he prepares and executes the client's appellate strategy.    Emil's appellate experience includes work in the areas of commercial litigation, healthcare and employment.
A native of New Mexico, Emil received his undergraduate degree in History cum laude from Harvard University in 1995; he received his Master's degree in Political Philosophy sobresaliente cum laude in 1997 from the Universidad de Navarra in Pamplona, Spain; and he received his law degree cum laude from Notre Dame Law School in 2000. After law school, he practiced in the Appeals Division of the Philadelphia District Attorney's Office for three years, and commercial litigation at the Philadelphia firm, Fox Rothschild, for one year.
Emil is Chair of the Appellate Committee and a member of Modrall Sperling's Commercial Litigation Practice Group; he is a shareholder in the Albuquerque office.
Click here to view more information about Emil.
Contact Emil:
500 Fourth Street NW
Suite 1000
Albuquerque, NM 87102
Direct: 505.848.1838
Fax: 505.848.9710
Email: emil.kiehne@modrall.com
Nothing on this blog, nor any communications through this blog, are intended to provide legal or other advice or to create an attorney-client relationship between you and me, or between you and Modrall Sperling.
If you should choose to communicate with me through this blog, you should not provide any confidential information concerning any potential or actual legal matter that you may have. Before providing any such information to me, you must obtain approval from me to do so.


By commenting on this blog or by communicating with me, you understand and agree that neither I, nor Modrall Sperling, will have any duty to keep confidential any information you provide.