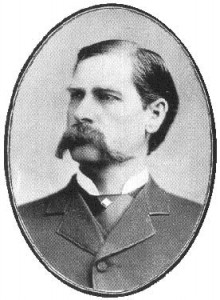 In 2006 Wyatt Earp (no, not that Wyatt Earp) bought a home on a real estate contract.
(In New Mexico, "real estate contract" is a term of art, which refers to an arrangement in which the buyer agrees to pay the seller in installments. If the buyer fails to make a payment, the seller can terminate the contract and repossess the property.)
In any event, Mr. Earp apparently did not make a required payment in 2009, and the seller terminated the contract.
But before vacating the property, Mr. Earp allegedly removed appliances and fixtures from the home, and left it in a state of disrepair. The State, who made these accusations, charged him with criminal damage to property and embezzlement, and obtained a conviction on both counts.
The problem for the State was that New Mexico law has long recognized that a buyer under a real estate contract has an equitable ownership interest in the property. To be convicted of criminal damage to property, however, one must damage the "property of another" without the owner's consent, and the embezzlement statute also requires the conversion of another's property.
Thus, the Court of Appeals, in an opinion (State v. Wyatt Earp) written by Judge Monica Zamora, held (without, of course, approving of the alleged conduct) that Mr. Earp could not have violated these statutes, because he was an owner of the property.
While this decision may have the unfortunate effect of sparing frustrated defaulters who damage property from criminal sanction, that is a consequence of the language in the statutes. The Legislature may want to consider amending the criminal statutes to make it unlawful for purchasers of real estate contracts to damage the property if they default on their obligations. Also, the fact that a buyer is not subject to criminal punishment does not mean that he or she will get off scot free. The seller may have claims in contract or tort.
Do you agree or disagree with this decision? Leave a comment and let us know!