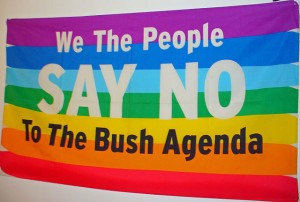 In 2007, President George W. Bush came to Los Ranchos de Albuquerque for a political fundraiser at the home of Larry Abraham, the mayor of Los Ranchos. Protestors opposed to Bush's policies sought to demonstrate against him, but were required to remain over 150 yards away from the route traveled by the President's motorcade. At the same time, demonstrators who supported Bush were allowed to stand on private property across from the entrance to Mr. Abraham's driveway.
Several of the anti-Bush protestors brought a Bivens action against a Secret Service official, and a Section 1983 claim against two officers from the Bernalillo County Sheriff's Office, alleging that these law enforcement officers violated the First Amendment by engaging in viewpoint discrimination. The defendants moved for summary judgment on qualified immunity grounds, but the district court denied the request.
Yesterday, in Pahls v. Thomas, the Tenth Circuit reversed. In a lengthy opinion, Judge Jerome Holmes explained that the district court erred by viewing the defendants' conduct in the aggregate rather than examining the conduct of each individual defendant to determine whether they did anything to violate the protestors' First Amendment rights.
The Court found that the defendants were entitled to qualified immunity, because none of them acted with any intent to engage in viewpoint discrimination. The Bernalillo County officers implemented a content-neutral policy of requiring all demonstrators, whether for or against Bush, to remain at some distance away from the President's route. Meanwhile, a private property owner directly across the street from Mr. Abraham's home invited some pro-Bush demonstrators to stand on his property and express their views. The Secret Service official allowed this to occur, in compliance with a Secret Service policy which requires agents to do all they can to respect the rights of private property owners.
As Judge Holmes explained, the "rub of this case is that these two viewpoint-neutral policies came together and were implemented in such a way as to produce a viewpoint-discriminatory effect." The Court held that where two viewpoint-neutral government policies "operate in tandem" to "create a disparate impact, plaintiffs must show that the policies were brought together for the purpose of discriminating against or in favor of a particular viewpoint."
The anti-Bush protestors, however, failed to present any evidence that the defendants acted with that intent, as the opinion explains in some detail. Thus, the Tenth Circuit ordered this case to be remanded to the district court, with instructions to enter summary judgment in the defendants' favor.
Another interesting aspect of this opinion is Footnote 1 on page 5, where the Court explains that it has attached an image from Google Maps showing the locations of the two different groups of demonstrators, and states that it is taking judicial notice of the Google map and satellite image.