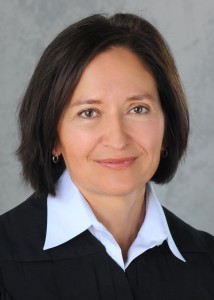 Today I spoke with Chief Judge Barbara Vigil, the Democratic candidate for the seat on the New Mexico Supreme Court that was vacated in August by Justice Patricio Serna.  You can find her campaign website here.
Q.        It's November 1, and I'm talking with Chief Judge Barbara Vigil, who is the Democratic candidate for the New Mexico Supreme Court.  Thank you for talking with me this afternoon.
A.        You're welcome.  My pleasure.
Q.        Tell us about your family and background before going to law school.
A.        I was born in Albuquerque and raised in Santa Fe, and I spent some time early in my life in Taos, New Mexico.  I started third grade in Santa Fe, and attended Catholic school.
At the age of 12, my mother passed away suddenly with an aneurism, and left six young children.  My father was forced to raise the children as a single parent.  I have four sisters and one brother, and my father sent all of his daughters to St. Catherine's, which is a boarding school for Native American children. 
I'm not Native American, but I was able to attend school at St. Catherine's, along with my sisters.  We would attend school as boarders during the week, and on weekends go home and take care of my father and prepare ourselves for the week at school.
I graduated from St. Kate's in 1977, and I went on to New Mexico State University, where I attained a bachelor's degree in accounting.  I then enrolled in and attended the University of New Mexico School of Law, where I obtained my juris doctor degree.
Q.        Why did you decide to go to law school?
A.        I decided to go to law school because I was interested in serving others.  I was particularly interested in being a social worker in some aspects of my profession, as well as being a teacher.  And I have found that my profession as a lawyer has enabled me to do both.
Q.        Tell us about your experience as a lawyer since graduating from law school, and specifically any experience you have had litigating in the appellate courts, and any other experiences you would like to mention.
A.        I began my legal career in Las Cruces, New Mexico, where I worked for a private law firm as an associate attorney.  I practiced there for four years.  I then returned to Santa Fe, my home town, and I began working at the New Mexico Attorney General's office.  It was at the Attorney General's office that I was able to practice appellate law.  I was able to argue cases in front of the New Mexico Supreme Court on various issues.  I was an Assistant Attorney General in that office.
I then worked for the General Services Department, Risk Management Division, and did civil defense work for that office for approximately one year.  I then decided to open my own office, my own law office, where I represented a number of individuals and institutions in various aspects of the law, and I was able to litigate cases in all levels of courts in New Mexico.  So I have extensive trial experience.
In the year 2000, I decided to run for District Court Judge, and I was successful in being elected as a District Court Judge for the First Judicial District.
Q.        And you've remained there ever since?
A.        I've remained there ever since, and I've been a District Court Judge for over twelve years.  For ten of those years I served as Children's Court Judge, and for two years I presided over the Civil Court Division.
Q.        Why did you decide to run for the New Mexico Supreme Court, and why should the voters choose you?
A.        I believe that my experience as a trial court judge enables me to understand the unique and important role that judges have in our system of government.  I have presided over 16,000 cases in all areas of the law, including family court, Children's Court, civil cases, as well as criminal cases, and juvenile cases.
So my experience as a judge in presiding over 16,000 cases enables me to have a deeper understanding of the important role that judges have in our system of government.
I also believe that my background in having experienced tragedy at a young age has enabled me to understand the plight of others who may be participants in the court system.  I think that unique experience enables me to bring a deeper empathy and quality to the role of a judge.
Q.        What, if anything, do you think could be improved about the New Mexico Supreme Court?
A.        I have served as the Chief Judge of the First Judicial District Court for two years.  And in that role as Chief Judge, I've understood the challenges facing the New Mexico judiciary.  The biggest challenge, in my view, that the courts in New Mexico face, is a lack of resources.
The New Mexico judiciary comprises 2.5% of our state budget, although it is a third branch of government, it only receives 2.5% of the state budget.  I believe that the biggest challenge is attempting and advocating to receive greater resources for the judiciary to serve the needs of the public.
That includes having more judgeships created throughout New Mexico, so we have more judges who are able to address cases.  I believe also in improving the technology in our courts to enable litigants to access court records and follow court dockets through their home computers.  That's very important.  And also enabling individuals to use e-filing across New Mexico so that they're able to file their court documents by e-mail is important.
All of these areas require additional resources, including giving our employees fair salaries so that we can keep good employees working for the judiciary and get the best quality of service for the taxpayer.  These all require additional resources and I intend to be a strong advocate for garnering more resources to be allocated to the judiciary.
Q.        Please describe the judicial philosophy you will use if you are elected as an appellate judge.
A.        As a trial court judge, my experience has been listening and deciding cases at the trial court level.  At this point in time, my experience has not enabled me to create or have a particular judicial philosophy or ideology.  I believe that that is something that is developed over time.
I can only vow to decide cases based upon the specific facts and the law applicable to the case before me.  But over time I do trust that there will be an ideology that will be created that can be attributed to my decisions.
But at this point in time I simply do not have a specific ideology or philosophy that I intend to bring to the bench except to say that I would be hard-working and fair and apply the law to the facts before me.
Q.        What present or past justice of the U.S. Supreme Court do you most admire, and why?
A.        I admire Justice Ruth Bader Ginsburg for several reasons.  I admire her demeanor, her judicial demeanor.  I admire her judicial philosophy and ideology, and I admire her tenacity and work ethic.  And she's someone I would aspire to emulate if I were elected to the New Mexico Supreme Court.
Q.        What book, or books, have had the greatest influence on you?
A.        Well, as an avid reader, I have enjoyed a number of books throughout my life.  The book that comes to mind at this time is one by William Boyd, entitled Any Human Heart.  I've enjoyed reading his works in particular.  This book describes the life of a man from a young age to an elderly age, and his experiences in a life of adventure, and living a very interesting life.
Q.        So is it a novel, or is it a biography. . .
A.        It's a novel that is based in part on certain facts.  It's like a diary of an individual in a particular time in a particular era.  So interspersed in it are descriptions of actual events, such as the Spanish Civil War.  It describes him living through these various events.  It's based on actual historical events.
Q.        What do you do for enjoyment or relaxation in your spare time, if you have any spare time?
A.        Well, as you can imagine, being a judge involves an extensive amount of time being devoted to work outside the office in preparation for one's cases.
But outside of my work as a judge I enjoy travel throughout the world.  I enjoy visiting different areas of the world and gaining a deeper understanding of how other people live and how other cultures survive.
I enjoy very much doing volunteer diplomatic work between Spain and the City of Santa Fe.  I serve on the Santa Fe-Spain sister city organization.  And one of our most recent projects is developing an exchange program between our sister city, Santa Fe de la Vega, Granada, Spain, and the City of Santa Fe, and St. Michael's High School here in Santa Fe.
We have students who come from Santa Fe de la Vega for one semester, and in exchange students from St. Michael's High School will attend high school in Santa Fe de la Vega, Spain.  So it enables an exchange of cultures and countries between our city, Santa Fe, New Mexico, and southern Spain.
Q.        Red or green?  And where do you like to eat it?
A.        It depends where I'm eating New Mexican food.  I have to say that some of my favorite places are Angelina's in Española, Tomasita's for their green chile chicken enchiladas, and The Shed for their red cheese enchiladas.  But I have so many favorite places to eat red or green, and it really depends on where I'm eating, that will determine whether it's red or green.
Q.        Judge Vigil, thank you for your time today.  I appreciate it.
A.        Thank you, Emil.