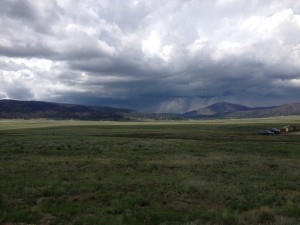 T.S. Last has this story in the Albuquerque Journal, reporting that Jemez Pueblo will appeal the decision by U.S. District Judge Robert Brack to dismiss the Pueblo's lawsuit to recover ownership of the Valles Caldera. Last year I wrote about the lawsuit here.
I have not read the judge's decision myself, but according to the story the court held that Jemez Pueblo's claim is barred by a statute of limitations. The Valles Caldera was deeded to the Baca family in 1860, and they sold it to the United States in 2000. The court apparently said that the Indian Claims Commission Act set up a commission in 1946 to consider tribal land claims that had accrued as of that time, and because the Pueblo waited till 2012 to bring their lawsuit, that was too late.
The Valles Caldera is, by common consent, one of the most beautiful places in New Mexico, and one can certainly understand the Pueblo's desire to reclaim ownership of it. This appeal will doubtless be an extremely interesting one to watch.