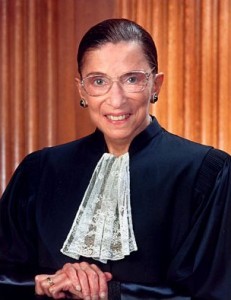 U.S. Supreme Court Justice Ruth Bader Ginsburg will speak in Santa Fe on August 15, 2014 at a conference called "Risk and Reinvention: How Women Are Changing the World." The conference is hosted by the Women's International Study Center, and will take place at the Drury Plaza Hotel.
The session at which Justice Ginsburg will speak is called "A Conversation with Justice Ruth Bader Ginsburg and Attorney Roberta Cooper Ramo," who is one of my law partners. The talk will begin at 3:00 p.m.
You can register for the conference here.
If you know of any other upcoming, interesting law-related events here in New Mexico, please let me know and I will be glad to post about them here.