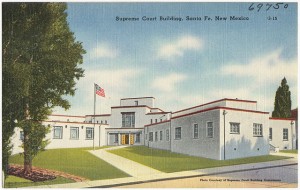 Today marks the retirement of Justice Patricio M. Serna from the New Mexico Supreme Court.  He has served on the Court for nearly sixteen years, including some time as Chief Justice.  Previously he served as a district court judge in Santa Fe for eleven years.
Coming from a humble background in his beloved Catron County, Justice Serna was the first member of his family to go to college (the College of St. Joseph on the Rio Grande).  He want to law school at the University of Denver, and was awarded a Master of Laws degree by Harvard Law School.
Justice Serna's term on the Supreme Court has been characterized by unfailing dedication to public service, personal integrity, and numerous acts of kindness and generosity to those around him (including the author of this blog).  He has done the citizens of Catron County and all of New Mexico proud, and will be missed.
A ceremony in his honor will be held at 3:00 p.m. today at the Supreme Court building in Santa Fe, to be followed by a reception in the Supreme Court Library.  If you are in the area, stop by and wish Justice Serna the best in his well-deserved retirement.