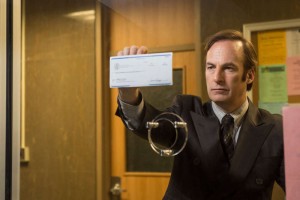 In the first episode of Better Call Saul's first season, Jimmy McGill complains about the $700 paycheck he received for representing three teenagers accused of indecent acts as a New Mexico contract public defender.
While that scene was played for laughs on the show, the relatively low level of pay that contract public defenders receive is a serious issue, as yesterday's decision by the New Mexico Supreme Court in Kerr v. Parsons demonstrates.
Contract public defender work is not a lucrative field. As Justice Judith Nakamura's opinion for the Court notes, flat fees for contract public defenders in Lincoln County in 2014 were $180 for misdemeanor cases, $250 per juvenile case, $540 per fourth-degree felony case, $595 per third-degree felony case, $650 per second-degree felony case, and $700 per first-degree felony case.
In 2015, the Legislature rejected a proposal that contract public defenders be paid at an hourly rate. Later that year, in a criminal case in Lincoln County, a state district court judge held that the flat fees were not sufficient to satisfy the State's obligation to provide counsel for indigent defendants under Gideon v. Wainwright, and therefore violated the defendant's federal and state constitutional rights to effective assistance of counsel. The trial court entered a remedial order directing that contract public defenders be paid $85 per hour.
The Supreme Court overturned the trial court's order. To prove that the flat fees are unconstitutional, a defendant must show that they "are so likely to prejudice the accused that the cost of litigating their effect in a particular case is unjustified." The Court held that such a factual basis had not been shown in this case, and said "We cannot assume that any contract attorney in New Mexico who represents an indigent defendant under the current flat-fee arrangement necessarily will be unable to subject the prosecution's case to meaningful adversarial testing." Thus, while rejecting the constitutional challenge in this case, the Court noted that "[f]uture cases … presenting other record facts, could precipitate our duty to enforce those same constitutional rights."
Justice Barbara Vigil filed a concurring opinion, expressing concern over the low level of compensation offered to contract public defenders.
I doubt we've heard the last of this important issue.