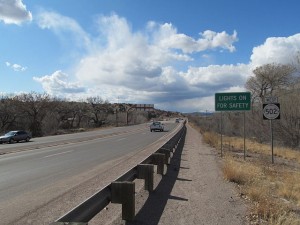 A head-on collision is every driver's nightmare, and in 2004 one happened on State Road 502 east of Los Alamos, killing Amelia Martinez and Donald Espinoza. The crash occurred because another driver, coming from the opposite direction, was attempting to pass in the center turn lane, but lost control of his vehicle.
The personal representatives sued the New Mexico Department of Transportation (NMDOT), alleging that a cross-over barrier should have been installed to prevent head-on collisions, especially since several other such crashes had occurred on that road.
Yesterday, in Martinez v. New Mexico Department of Transportation, the Supreme Court explained that NMDOT does not enjoy immunity from the plaintiffs' claims that NMDOT was negligent for not installing a cross-over barrier.
The Tort Claims Act does not permit lawsuits against NMDOT for the negligent "design" of a roadway, but does permit lawsuits for negligent "maintenance." NMDOT argued that because the "design" of State Road 502 did not include a cross-over barrier, it was entitled to immunity. Plaintiffs argued that the failure to install a cross-over barrier was an issue of "maintenance" for which the Tort Claims Act had waived immunity. The Legislature, however, has not further defined the terms "design" and "maintenance" in any way that was relevant.
Thus, it was up to Supreme Court to draw the line between these two general concepts.  In an opinion by Justice Richard Bosson, the Court agreed with plaintiffs. The Court said that "maintenance" is not limited to "upkeep and repair" of a highway, but instead, "notice of a dangerous condition–whether based on the original design or some other intervening characteristic–triggers a maintenance obligation for which [NM]DOT can be held legally responsible under the Act." ¶ 34.
Although the Tort Claims Act protects state government bodies from liability for the negligent "design" of bridges, culverts, highways, streets, alleys, sidewalks, and parking areas (see NMSA 1978, § 41-4-11(B)(1)), it is unclear what, if any, immunity this part of the Act will actually provide in the future. Plaintiffs will simply claim that they are not alleging any defect in the "design" of these things, but rather that the public body in question failed to remedy a dangerous condition, and therefore engaged in negligent "maintenance." If the Legislature wants to give some content to the concept of "design" immunity, it will need to be more specific about what that term actually means.
The Court also held that evidence of NMDOT's prior notice of the dangerous condition existing at the site of the accident is not restricted to evidence of events at the exact location where the crash occurred. Instead, "evidence of other collisions occurring in the general area of the particular collision or in other areas with similar characteristics, may be relevant to notice." ¶ 43.
Do you agree or disagree with this opinion? Please leave a comment and let us know what you think.