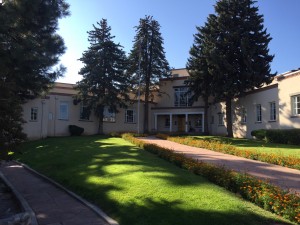 Paul Weideman has this story in the Santa Fe New Mexican about our Supreme Court's distinctive building in Santa Fe, which was built in 1937 by the Public Works Administration as part of the New Deal. The story also includes some nice photos of the building's exterior and interior.
The story quotes Justice Charles Daniels, who describes some of the building's history, and notes that he races Formula 1 cars in his spare time, is the first justice since statehood to wear a beard, and is a blues-rock bassist in a local band called Lawyers, Guns, and Money. Who said that appellate lawyers and judges have to be boring?
As an appellate law nerd, I get chills whenever I enter the building. In 2004 I had the honor of being sworn into the New Mexico Bar in the main courtroom by former Justice Patricio M. Serna. The Supreme Court Law Library is filled with volumes on New Mexico's legal history, and is a lovely place to research, write, and think. If you love the law, and are ever in Santa Fe, you should make it a point to stop and visit.
Also, Happy New Mexico Statehood day!