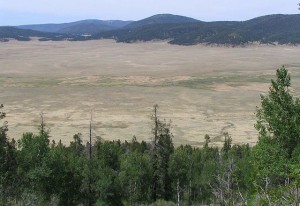 I have always thought that the Valles Caldera is one of the most beautiful parts of New Mexico, and I know other people who share that opinion. Every year I make it a point to drive through this natural treasure, and my elder son and I often take hikes in the area.
Thus, I read this article by Jackie Jadrnak in today's Albuquerque Journal with great interest.  It describes Jemez Pueblo's lawsuit against the federal government to recover ownership of the Valles Caldera, which the tribe regards as sacred land.
I don't know enough right now to comment on the merits of the lawsuit, but the article will be of interest to those who are interested in the Valles Caldera or in New Mexico's long and interesting history.